About the Artist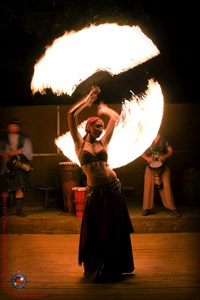 Born under the stars of Scorpio, in the year of the Dragon, Kelsey Byram is a firedancer, a storyteller, and above all else, an artist. Kelsey Byram (Stage persona "Viollca") currently resides in the Greater Kansas City area. Kelsey grew up in Saginaw, Michigan, before moving to Kansas City in 2007 to attend the Kansas City Art Institute. Her journey through the prestigious school was a little unusual, as she spent much of her out-of-class time in a parallel world of performance with a group called the Sonic Sidhe Tribe. To her, the performance and art were all intricately entwined, even if the teachers didn't quite understand that yet.

Actually, looking back, art school was a little weird...


Art school was never Kelsey's goal. She was going to be an actor, a performer, a costumer designer...something to do with theater. She ended up going to art school after a conflict with a high school theatre teacher that ended up with Kelsey being cynical about theatre for a while. And still, fate has its way. One week after moving 800 miles from home to Kansas City, Kelsey found herself at the Kansas City Renaissance Festival. As she walked around, she heard the distant pounding of tribal drums. Having grown up to the sounds of African bongos on the record player, and Paul Simon singing to the beating of African djembes, she immediately was drawn to the source; it was the Sonic Sidhe Tribe. She showed them her contact juggling, and asked them about learning drumming. At the end of the day, they came running up to her to ask her to perform with them. She accepted, and so even at Art School, she found ways to continue performing.