Quilted Earth Goddess Ceremonial Robe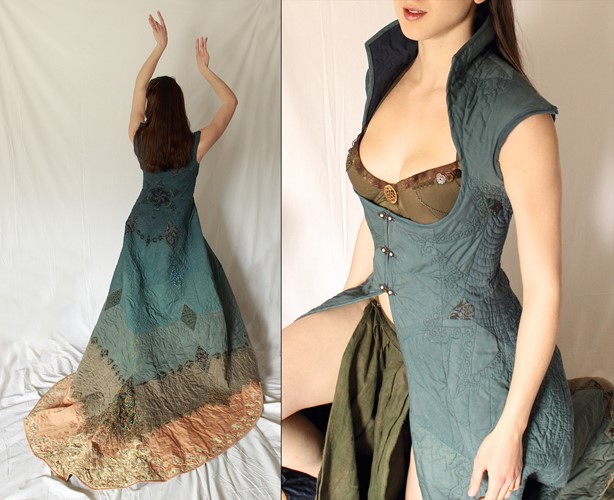 Quilted Earth Goddess Ceremonial Robe
Ritual Ceremony Wearable Art
In today's culture, we have lost many of our important rituals, but the essence of ceremony and ritual can be revived by donning this beautiful costume. When the weight settles on your shoulders, you stand straighter, move slower, take on the ritual role. Ritual costume reunites us with the divine.

Designed for my thesis exhibition performance for graduation from the Kansas City Art Institute, this was an almost year-long labor of love! I drafted the coat with the kaleidoscope-quilt pieces integrated into the pattern itself (i.e. there is not a base coat design, with patches just sewn overtop). The garment is composed of a pieced kaleidoscope quilt of hand-dyed 100% kona cotton, lined with a dark blue cotton. The exterior is embellished with high-quality prints cut up into tiny pieces and re-arranged to create new patterns, as well as with quilted designs that were meticulously free-form stitched with cotton, silk, and metallic threads.

This overcoat was worn as the costume by myself as the Mother Earth Goddess. I just about gave my professors heart attacks when I spun fire in this for my Thesis show! But, it escaped unscathed.